Do You Get Takis in India?
Posted by KARAN DHIR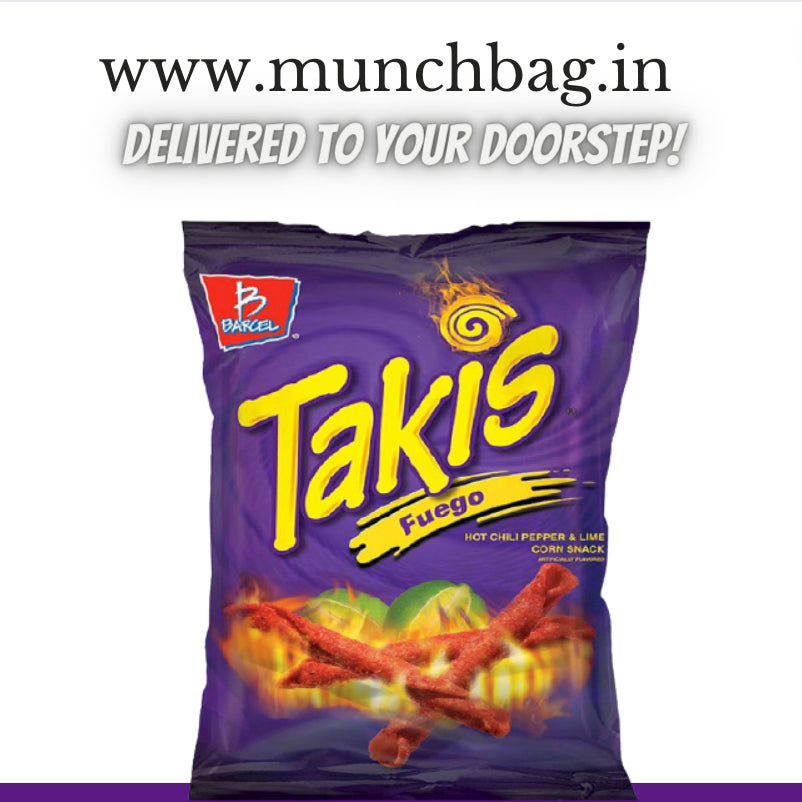 Where can you buy Takis in India?
The only place to buy Takis in India is from MunchBag. MunchBag offers you door to door delivery at a nominal 100 Rs delivery charge. Utmost care is taken for delivery so the Takis are received by the customer in an immaculate condition.
Why Eat Takis?
Takis are one of the most famous chips in North and South America. They are often compared to and thought to be better than Cheetos Flaming Hot. In India Takis are available in multiple flavors such as Fuego Pepper and Lime, Crunchy Fajitas, Blue Heat, Nitro. All of these flavors are available on www.munchbag.in
MunchBag also stocks mini Takis Fuego which is a small pack of 35 grams but pack a punch in its tanginess.  Not only this MunchBag sells the mini Takis as packs of 5, 10 and 25 offering a great saving at the most affordable prices in India.  MunchBag delivers Takis across India so you can be sitting anywhere and order Takis on the go using the MunchBag App. The app can be downloaded from the play store for Android phones or on the apple store for apple users.
Why are Takis So Popular?
The popularity of Takis is due in part to their unique flavor. These crunchy and spicy tortilla chips are a popular snack with all ages of people as it has something for everyone. These are rolled tortillas chips which are crispy down to the last bite. Moreover, their tangy lime flavor is sure to satisfy even the pickiest of eaters. Luckily now you can order them online on MunchBag and get them to be delivered right to your doorstep.
Why are lime Takis so good in Mexico?
As a snack, they are popular in Mexico. They are the perfect combination of spicy and salty. In fact, they are a perfect addition to Mexican cuisine. You can find them in any grocery store. You can order them online or in stores. Takis have been in demand for very long in the Indian market as this Mexican snack appeals to the Indian palette due to its hot flavor.  MunchBag has solved this issue by offering Takis  to customers across India. Takis is now extremely popular among the Indian people as MunchBag has brought this amazing product from Mexico.
How long does it take to get Takis In India?
Takis take about 2-7 days to be delivered right to your doorstep from MunchBag.
All Takis delivered are fresh and zestfully tasty! Keep munching!! Collection 2019 Sale 70% Off Title for image